Happy Wednesday y'all!
I saw Ashley over at
It's just a bunch of Hocus Pocus
doing this linkup for a couple of weeks now so I'm taking a break from What I'm Loving Wednesday and linking up with
Shannon
for So What Wednesday!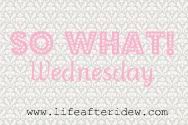 This week I'm saying SO WHAT! if...
... I haven't blogged since Friday. I was very busy over the holiday weekend!
... I'm about to kill my rescue dog Youri. He is special and has lots of problems. He pooped on me two nights ago, threw up on me last night, and got poop on the sheets as I was crawling into bed. You'd be about to kill him too.
... I stayed up until 3 o'clock in the morning watching the first season of One Tree Hill with my sister. I needed to know what happened!
... I didn't count points over the weekend. There was way too much yummy food for me to do that to myself! Luckily I didn't do too much damage on the scale :)
... if my house is a mess. I'm getting some good painting done.
What are you saying so what to this week?
I hope everyone has a wonderful Wednesday!