Happy Tuesday ya'll!

Top 2 Tuesday is quickly becoming one of my favorite posts of the week!

I'm loving the topic today!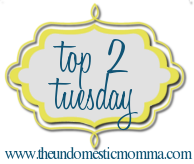 Top 2 Songs on your Ipod
This is probably the hardest Top 2 that I've had to do yet! If you don't know, I really like music a lot. And not just one type. All types. My iTunes has well over 3,000 songs on it and counting! I'm the go-to person for all my friends when they want to make CDs, ringtones, or whatever. Nonetheless, while I can't promise these two are my absolute top 2 favorite songs, they are songs like I like a whole lot :) I listen to a ton of different genres so to narrow it down, I'm only doing country music since it is overall my favorite. And, in an attempt to narrow it down even more, I'm doing more recent songs.

1. Only Prettier by Miranda Lambert

It would only make since that this is one of my current favorite songs. After all, I named my blog after the first line of this song :) I love this song (and most all Miranda Lambert songs for that matter) because she's a lot like me....a little sweet and a lot sassy!
2. She's Country
Being from the South, it's only natural that I would love this song :)
Runners Up
(I already said I couldn't pick just two!)
American Honey by Lady Antebellum
If I Die Young by The Band Perry
I Go Back by Kenny Chesney
Kiss Goodbye by Little Big Town
This doesn't even begin to represent all the music I love, but if it did we'd be here all day!
Link up with
The Undomestic Momma
to share your Top 2 songs on your Ipod!