Happy Tuesday ya'll!
I always can't wait to see what Top 2 Tuesday's topic is going to be, and
The Undomestic Momma
has another great one today!
For me personally, this one was a lot easier than last week's topic of songs! It surprises me how hard I have to think about some of these :)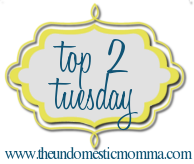 Top 2 Drinks
1. Sweet Tea
I absolutely love sweet tea! My grandmama made the best sweet tea ever! Anytime I go out to eat anywhere it's what I always order. In 2009, I was in Maryland for 13 weeks training in the Army and sweet tea was
nowhere
to be found! Every time we would go off post I would want to order a sweet tea wherever we went, and it was a very sad reality that they didn't have it. It was a long 3 months!
Oh yes. That is a mason jar :)
2. Cherry Limeade
This is my special treat! I got hooked on Sonic's Cherry Limeades. I love their 2 p.m.-4 p.m. happy hour where drinks and slushies are half price. It makes my Route 44 Cherry Limeade only a little over a dollar! And it's worth every penny :) Of course, sometimes when I go and buy a Route 44, they give me a receipt where if I call a number and do a quick survey, I get a free Route 44 on my next visit with the receipt and survey code. That's my kind of deal!
What are your Top 2 drinks?
Link up
and let us know!