Happy Friday y'all!
I'm a little upset that my What I'm Loving Wednesday post with all my lovely comments has disappeared thanks to Blogger's inconvenient maintenance the past couple of evenings. I still love you all, just so you know :)
Today I'm playing along with Five Question Friday. If you want to play along, link up
HERE
.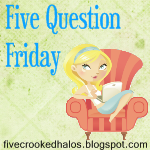 1. Tube socks, calf socks, crew, ankle, none?
Definitely ankle socks! Unfortunately in the Army you have to wear socks that cover your ankles so I have to wear socks that come up higher, and it drives me crazy!! I really like wearing flip flops though and unless I'm wearing tennis shoes, I won't wear socks at all! When my feet get cold I'm definitely a slippers girl over socks. It just feels weird to me to wear socks without shoes.
2. Was your child's (children's) name a mutual decision or was it a debate? If you don't have children, do you plan on giving your spouse a say, or do you have a name you MUST have, regardless if your other half likes it or not?!
No children for us yet, although my husband and I have been talking about trying recently. We like to have the conversation "what about this name" often though! We pretty much leave it alone if the other one doesn't really like the name. BUT my husband is very adamant about if we have a boy, his middle name MUST be Christopher. My husband's first name is Christopher, and it is a family name so I don't really have a say in that. I don't have a name that we MUST have though.
3. What is your favorite type of weather?
My favorite is definitely South Carolina Fall! Where the high is in the 60's so it has finally started to cool down from summer. And I can wear short sleeves and jeans without being too hot or cold in either. I'm very hot natured so I like the weather a little cooler, although I'm not really a fan of super cold winters either!
4. If left to your own devices, what time would you wake up every day?
This is a little embarrassing, but I probably wouldn't wake up until noon at the earliest! I'm definitely not a morning person, and it seems that i just cannot get out of the bed in the mornings if I don't have to. Now I don't always sleep until noon, but if I didn't make myself get up I'd probably be there until then!
5. Have you bought your cemetary plots yet?
Well, I'm only twenty something so I haven't bought any myself yet, but I already have one. Awkward. My mother in law is a little bit of an over-preparer and has already bought two plots apiece for my husband and his brother, neither of whom are out of their 20's yet!!
I hope everyone has a fab. Friday!