Happy Tuesday y'all!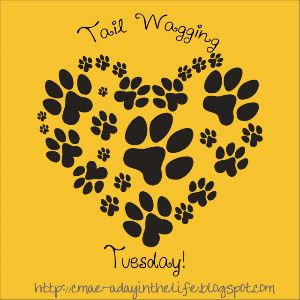 Today's topic is....
Share your pet's favorite treats!
Youri's favorite thing in the whole world is eating! The shelter I got him from said that he was very malnourished when they got him so I just like to think that he's making up for lost time :)
Youri gets treats a lot, but there is one time of the day that he really expects them and that's bedtime! He's such a good little boy and gets right in his crate when it's time for bed because he knows when he does he's going to get treats!
Youri is really small (just over 8 pounds!) so he has to have small treats for his little mouth. Due to all the abuse he went through, a lot of his teeth are chipped, broken, and ground down so they also have to be really soft. Here are his favorites!
These little Cesar treats are perfect for his little mouth and tummy! Plus, I normally get some really good coupons on these in the paper so I normally only pay 98 cents for them :)
The Canine Combos are really good because they give him some variety. And this BIG tub lasts this LITTLE boy a long time!
And he also likes the little version of Beggin' Strips!
Youri is very protective when it comes to his treats so he normally runs off with his treat and hides under the dining room table or behind the couch to eat it! And if you get to close, he growls and lets you know :)
Every now and then he'll get a special treat like a real bone from ribs or steak :)
What's your pet's favorite treats?
I hope everyone has a terrific Tuesday!